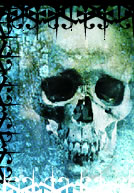 Darren Shan's real name is Darren O'Shaughnessy. Although he is Irish, he was born on the 2nd July, 1972, in St. Thomas' Hospital, London -- directly across the river from the Houses of Parliament in Westminster (which may explain his fascination with evil bloodsuckers ...). He lived in SouthEast London, near the Elephant & Castle. He started school at the early age of three (he was such a wild child, no pre-school facility would have him!), in English Martyr's. At the age of six, he moved to Limerick in Ireland, with his parents and younger brother, and has lived there ever since (but he never lost his London accent!).

Darren went to primary school in Askeaton, where his mother was a teacher, then to secondary school in Copsewood College in Pallaskenry. Later, he went back to London to study Sociology and English at Roehampton College. He then worked for a cable TV company in Limerick for a couple of years, before setting up as a full-time writer.

Although Darren always wanted to be a writer, it was only in his teenage years that he began writing in his spare time, for fun (before that, he only wrote stories if they were for homework). He bought his first typewriter when he was 14, and never looked back, knocking out loads of short stories and comic scripts, and making false starts on several books which he never completed. He enjoyed his first taste of literary success aged 15, as a runner-up in a TV script-writing competition for RTE in Ireland, with a dark comedy script entitled "A Day in the Morgue" (he was morbid even then!).

Darren was 17 when he finished his first novel, "Mute Pursuit" -- a futuristic cross between "The Terminator" and Stephen King's "The Dark Tower". Although it was never published, he relished the writing experience, and found himself focusing more and more on novels in the coming years, leaving behind the short story format. Over the next several years, sandwiched between college and work, he wrote an average of one book a year, experimenting with different ideas, genres, lengths and styles. When he started writing full-time, his output shot up to 5 or 6 books per year! (But that's dropped back to 2 or 3 recently, due to all the travelling around he's been doing to promote sales of his books.)

All of these books were adult-oriented. Although Darren quite liked the idea of writing a children's book one day, he considered himself an adult writer first and foremost. In fact, Darren's initial breakthrough was with an adult book, under his real name of Darren O'Shaughnessy. The crazily titled "Ayuamarca" was bought by Orion and published in February 1999. A dark, mysterious, twisting cross between "The Godfather" and "Night of the Living Dead", "Ayuamarca" earned some very favourable reviews, but sadly didn't sell especially well. A sequel, "Hell's Horizon", followed in February 2000, and although it was widely held to be a much better book, it sold even less copies than the first book!

That might have been the end of Darren's writing career, except ... In January 2000 his first children's book – "Cirque Du Freak", which he'd written as a fun side-project – was published in between his two adult books. The first book in a series entitled "The Saga Of Darren Shan", (or "Cirque Du Freak", as it's known in America) it attracted rave reviews and much media attention — especially when the movie rights to the first two books were optioned by Warner Bros in a seven figure deal prior to publication! All of a sudden, his career was on the up -- but as a children's writer!

Over the next five years, Darren wrote a total of 12 books about vampires. He quickly followed his vampiric Saga up with "The Demonata", a series about demons, which will run to ten books in total. By the start of 2006, Darren's books were on sale in every continent ... in 30 countries (officially -- there are also illegal copies flying around in at least one country that we know of!) ... over 20 languages ... had been children's bestsellers in America, Britain, Ireland, the Netherlands, Norway and other countries ... had topped the adult bestsellers charts in Hungary, Japan and Taiwan ... and had sold in excess of 10 million copies!!!!

Warner Bros never actually made a film, so the movie rights to The Saga returned to Darren for a while. Then, in January 2005, following interest from a number of studios, he sold them to Universal Studios. Oscar-winning screenwriter Brian Helgeland is due to write a script (combining the first 3 books), and the movie will be produced by the Lauren Shuler Donner (responsible for the X-Men movies and a host of other blockbusters since the 1980s). So, while the series might have come to an end, there may be life in The Saga yet!! And there's definitely lots more to come on "The Demonata" front!!!! After that? Well, let's just say he has one or two things up his sleeve ...

A big film buff, with a collection of thousands of movies at home, Darren also reads lots of comics and books, and likes to collect original artwork. Other interests include long walks, watching football (he's a Tottenham Hotspur and Ireland fan), listening to pop and rock music, worldwide travel, and dreaming up new ways to terrify his readers!!!